Would you like to properly protect your four-legged friend from ticks? With this complete kit, you can easily make an anti-tick band yourself. In the package, you will find the following items:
3m Paracord Type 3 Fresh Mint
3m Paracord Type 3 Glamorous Peach
2x Pears
1x Cord stopper round Black
12x EM ceramic bead

EM Beads against ticks
Ticks are very annoying to pets and unfortunately the animals and their owners often suffer from them every year. Dogs and cats are close to the ground and the tick therefore easily jumps between the warm hairs of the skin. An ideal place to bite into your pet's skin. That you obviously do not want. 123paracord has a solution: EM ceramic beads. The beads ensure that the tick does not feel comfortable and will choose an alternative, not your dog or cat.
Application EM beads
Our customers use the EM ceramic beads for processing in a collar. The beads lend themselves perfectly to the processing and our customers are extremely satisfied with the effect of the EM ceramic beads against ticks. Despite the fact that there is no scientific basis for the effect, our customers are enthusiastic and experience fewer ticks when using the EM beads.
Because the beads have the shape of a tube, they are easy to thread on our paracord. WithParacord type 3 of type 2 you can make beautiful collars and combine the good of a tick-free pet.
Characteristics EM ceramic beads
EM-X pipes (tubes) in which Effective Micro-organisms (EM) without access to air (anaerobic) are embedded. The pipes have a length and diameter of 10mm.
The constituents of EM-X ceramics are:
Because the quality of the EM ceramic beads of 123paracord is so incredibly good, they will last a lifetime
Instructions for using EM Ceramic Beads against ticks
Make a collar with the ceramic beads in it
Use about 8-10 beads per collar
Leave the collar on as often as possible
After about 2/3 weeks of constant use, the bead will be up to standard
Rinse the collar every 2 weeks. This prevents the dirt from affecting the functioning of the collar. Let the collar dry in the sun (possibly behind a window). In this way, the operation and resonance are optimal.
Recognize tick bite pet
The tick bites into the skin of your pet. You can recognize the bite by a lump under the skin. Below you can see an example of this in a dog.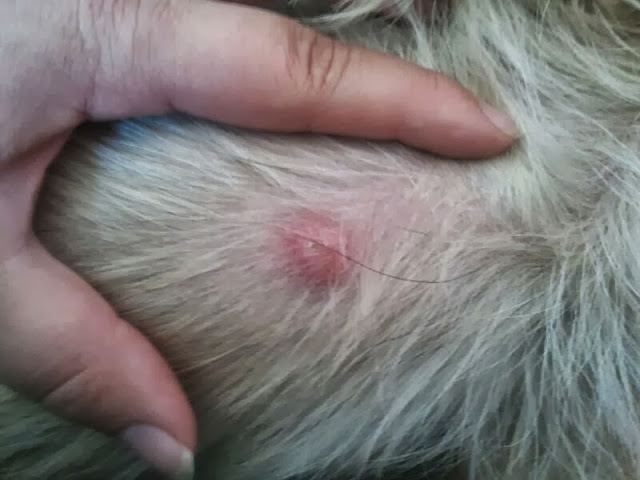 Disclaimer: There is no scientific support for the working of EM Beads. We base the success on user experience of our customers and other users.